I truly have been blessed over my career.  I've been trained by some of the best chefs and sommeliers in the world and also been able to experience some of the best wine ever made.  I have been able to travel to incredible places to sample wines.  Now that I live in Michigan, I decided to explore the regional wines.  Here's what I can say about Michigan as compared to other places I have been:
Napa is manicured beauty,
Sonoma is rustic beauty,
Oregon is natural beauty,
While Michigan is relaxed, tranquil beauty.
 Ladies and gentlemen, I can highly recommend going to MI wineries.  There are amazing in quality and service.  I have been to several now and every time, I have felt completely relaxed and enjoyed the tastings.  Last week, I decided to drive up to Traverse City to take a look at what's available.
First of all, Michigan is home to approximately 150 wineries and to five American Viticultural Areas (also called AVA's):
Fennville (directly on the southwest coast of Lake Michigan)
Lake Michigan Shore (located on the southwest portion of the state),
Leelanau Peninsula (northwest of Traverse City)
Old Mission Peninsula (located almost direct above Traverse City), and
The Tip of the Mitt which is the northeast portion of the state (yes that is the actual name of the AVA).
For this trip, I wanted to explore around Traverse City (famous as a popular summer tourist area along with its incredible cherries).  On a rainy overcast day, I decided to make a day trip to focus on the Old Mission Peninsula wineries.  Living in the south for about 20 years, I truly forgot what fall and leaf change is like.  Most of the time in either Texas or South Carolina, the trees would drop their leaves as the new buds pushed them off.  Not in Michigan….I have never seen such raw beauty with colors that I could not describe.  As you drive through Traverse City and on to the peninsula, you are exposed to the beauty of Lake Michigan and the fantastic shoreline colors.
Let's talk about the wineries.  I went to visit three of them on this trip (trust me, I will be going back to explore the others).  These were:
2 Lads Winery
Bower Harbor Vineyards
Mari Vineyards
In future articles, I will discuss in detail some of the wines that I sampled plus my ideas for food pairing for each of them.  However, I will give you an overview of my impressions of each of the wineries. 
Getting out of the car, I'm greeted by the beautiful view of Lake Michigan only a few hundred yards away.  2 Lads produces a great selection of wines.  Even though I tried several, I'm highly impressed with the quality of the red wines.  For a colder climate, you would think that the red would have difficulty in fully ripening.  This normally produces a green bell pepper aroma.  They are still harvesting grapes this week and not only for late harvest wines.  The long hang time allows for complete ripening and produces some stunning examples of what the terroir is.  Overall, great wines, plus an exceptional knowledgeable and personable friendly staff made this visit memorable.
The two wines that I will mention are the 2018 Rose along with the 2016 Reserve Cabernet Franc.  The Rose is 50% Pinot Grigio and 50% Cabernet Franc.  I was able to try this wine both chilled and at room temperature.  Served chilled, it's mild on the nose but showed incredible slightly sweet cranberry tones and well balanced.  At room temperature, the wine showed jammy tones, candied fruit and bigger cranberry fruit presence.  Either way, the wine was great but I personally would place a touch of a chill on it to reduce the acid perception and let the fruit shine.  This is a great value and would be fun around Thanksgiving.
The Reserve Cabernet Franc had me intrigued.  I am a huge fan of this grape variety since it shows Cabernet Sauvignon tones without the same level of tannin.  Cabernet Franc was the parent of Cabernet Sauvignon (Cabernet Franc x Sauvignon Blanc = Cabernet Sauvignon).  So when I get the opportunity to taste a wine produced with 100% of this grape, I really want to see what the winemaker has produced.  This wine did not disappoint.  This is a great showing of the terroir along with what Cabernet Franc can bring to the table.  Flavors include delicate notes of cassis, accented by light tones of smoke and toast from barrel aging.  It's definitely worth sampling and purchasing a bottle. 
https://www.2lwinery.com/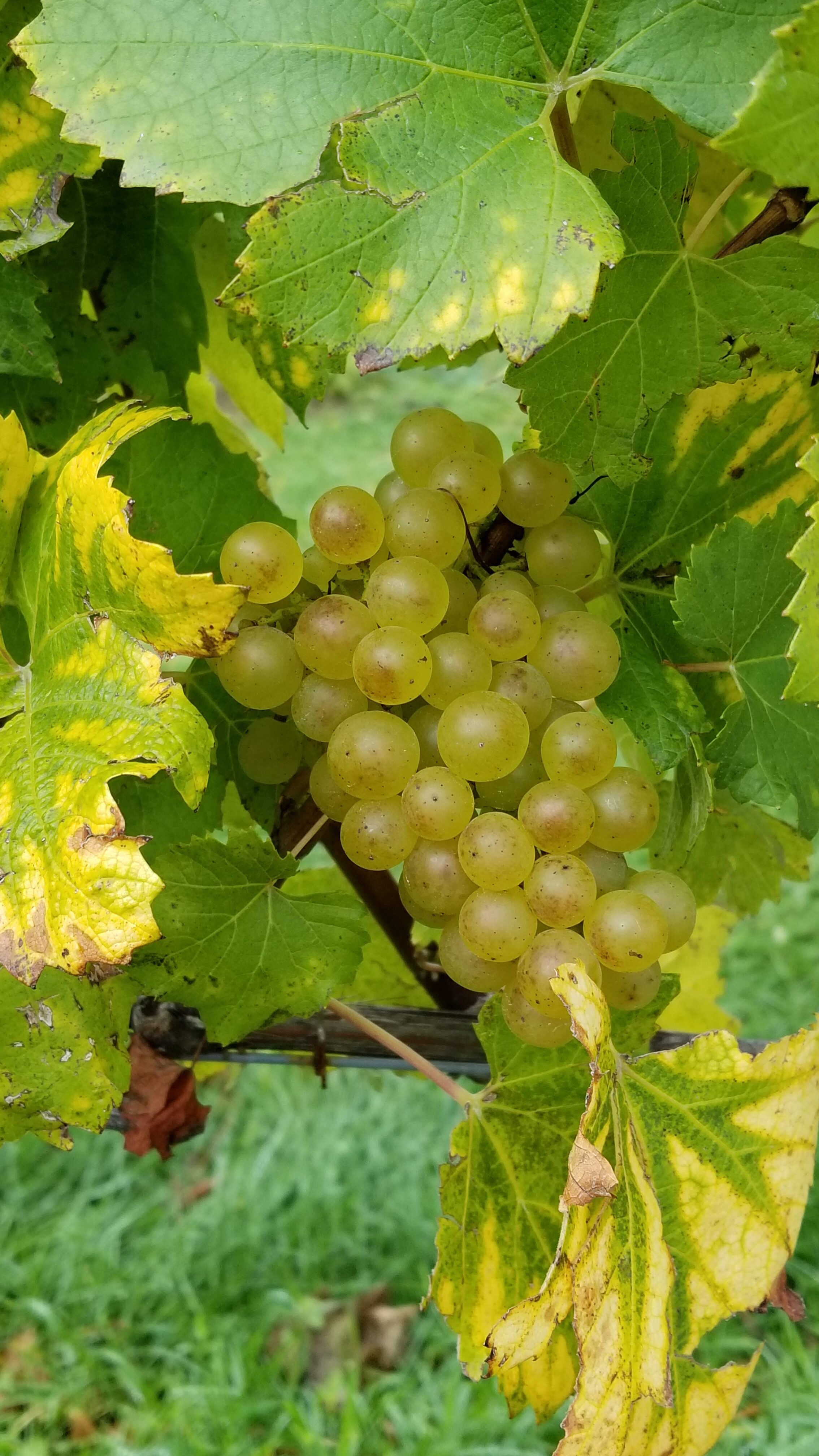 A short drive down south from 2 Lads is Bowers Harbor Vineyards.  This is a very picturesque vineyard with views of the lake.  They also have a beautiful tasting room with a variety of wines (and now ciders) to sample.  I had been exposed to their wines before (the unoaked Chardonnay is a gem) so I wanted to explore what other wines they produced.  Overall, I loved the selection of wines and they showed very well.  I would highly recommend a visit to browse the gift shop, try the wines and sit outside and enjoy the view.
My two standouts were the two Gewürztraminers.  The 2018 Wind Whistle 2018, which is grown in the Leelanau Peninsula, shows a pleasantly sweet almost candied lychee fruit, with lovely honeysuckle and rose tones with dashes of white pepper and cinnamon.  I have always been a big fan of Gewürztraminer and this one was outstanding with bright acidity and flavors of sautéed pears with a dusting of cloves.
I also tasted the 2018 Old Mission Gewürztraminer.  This wine is marked as a late harvest but the sugar levels never reached what you would typically see at harvest.  This was my personal favorite, similar to an Alsatian wine.  I will write a follow up article soon on this wine in detail with food pairings.  Just amazing!
https://www.bowersharbor.com/
The last winery on this outing was Mari Vineyards located a bit further south on the Peninsula.  From the drive in, you feel like you were visiting a rustic Italian villa.  This is a beautiful winery, from the large fireplace out front, to the tasting room with its incredible staff.  The vineyard is widely known since one of the owners is a big part of the television show The Curse of Oak Island.  It's a show about a possible treasure buried on an island in the Atlantic Provinces.  I had seen the show many times prior to moving to the area and still watch it.  However, the vineyard should be noted for them growing Italian grape varieties (like Nebbiolo) in a colder climate.  As I found out, they are able to do this since 7 ACRES of their vineyards are covered by hoop houses to help ripen the grapes.  I have never heard of another vineyard doing this.  The question is…..how were the wines?
I tasted several and was again amazed at the quality and depth of the wines.  The 2017 Pinot Bianco is a blend of 80% Pinot Blanco, 15% Pinot Grigio and 5% Tocai Fruliano.  This is a refreshing take on the Pinot grape with a lovely nose of ripe apples and pears.  The taste is an off dry blend of citrus, apples and peaches with lovely minerality and a crisp finish. 
The Gamay Noir shows deep berry aromas with hints of spice.  Its taste is amazing.  Some people may find the deep fruit tones a bit sour or unripe but this is typical of the grape style.  What is not typical is the complex blend on the palate that gives this wine an outstanding quality.  This is a wine that I would have loved to sit by the fire and overlook the area.
https://www.marivineyards.com/
Driving back home through the rain, my first question to myself was …was the trip worth it?  Was it worth the long drive (3 hours) in the cold weather (low 40's) in bad rainy conditions?  Yes, and I'd do it again.  A big part of my life is exploring wines and learning more about the people who make them.  This area is rich with a love and passion for winemaking and service that I hardly have run into during my career.  They were not content with pushing people through but letting people grow and enjoy.  Wine is not about the drink but the experience that goes with it.  And this is an experience that will long live with me. 
Ladies and gentleman, support Michigan's wine industry.  It truly is something special for all to explore.
@Artofthepair